The Shop is the place where you can buy Pokemon TCGO Digital Packs with
Trainer Tokens(Formerly Booster Points).
Featured:
Edit
In the featured section of the shop you can either see the three newest items or the the three most popular items in shop.
Theme Decks
Edit
You can buy Theme packs for 500 Trainer Tokens here.
Booster Packs
Edit
You can buy 10 Card Booster packs for 200 Trainer Tokens here. You can also get special bundles.
Gameplay:
Edit
You can buy Sleeves, Deck Boxes and Avatar Booster Packs for Trainer Tokens here.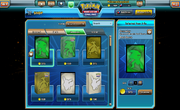 Removed Sections
Edit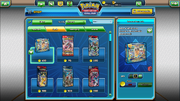 You could buy 5 card
Booster Packs
here for 95 Trainer Tokens before February 3rd, after that you could buy 10 card Booster Packs for 200 Trainer Tokens and Theme
Decks
remain 500 each. You could also sometimes get other special offers. The items could also be bought with Gems, items bought with Gems are trade-able unlike the items bought with Tokens.
You could buy items for your trainer.
Ad blocker interference detected!
Wikia is a free-to-use site that makes money from advertising. We have a modified experience for viewers using ad blockers

Wikia is not accessible if you've made further modifications. Remove the custom ad blocker rule(s) and the page will load as expected.