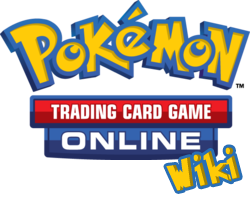 Welcome to the Pokemon TCG Online Wiki A Wiki all about the online Pokemon TCG that any one can edit.
This Wiki is a mess. If you have info please put it in the pages. I can not fix this up alone
Are you a new player? If so, please check out the Beginers Info page! 
Do you have a good deck idea please make a blog post about it. 
Vist the Forum to ask questions and find news about the wiki and the game.

                                                                                                                                                                                                                                                                                                                                                                                                                                              Featured Pages